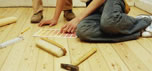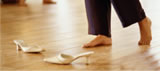 Dřevo – přírodní materiál pro Váš interiér
Dřevěné podlahy jsou oblíbené, protože z nich vyzařuje teplo a znamenají pro nás kus přírody v domě, jsou příjemně hřejivé, praktické a hospodárné . Přispívají k útulnosti obytného prostoru. Nezanedbatelnou předností je schopnost absorbovat a uvolňovat vzdušnou vlhkost, čímž udržují stabilní klima v interiéru a nedochází k elektrostatickým výbojům jak je známe ze syntetických podlah. Palubkové podlahy z masivního dřeva byly vždy v domech a bytech standardním vybavením. V posledních letech ale podlahy z pravého dřeva opět získávají velké množství příznivců. Síla palubkových prken je většinou mezi 19 a 40 mm v šířkách 12 až 21 cm a délce do 6m. Domácí surovina by měla vždy dostat přednost, naše lesy jsou dodavatelem hodnotného dřeva.
fake-watches.is: the best site to buy replica watches online. High quality watches, unbeatable prices, and fast shipping!